About a month ago, we got an email through the kids' school saying there was a….game? Contest? Escape room? Thing? we could be a part of. It was called A Labyrinth, you had to be associated with the University to participate, and we qualified. It was all sort of confusing, but I got the impression it was something designed for University students. At that point, quarantine was already starting to wear thin and it was already starting to come out in creative ways around the house (see the Getty Challenge), so we figured we might as well sign ourselves up as a team. Hence, "The Oracles" were born (named after our logo, the Getty Challenge we did based on the painting "The Oracle", and also thematically appropriate for a labyrinth-themed game!)
LITTLE DID WE KNOW WHAT WE WERE GETTING INTO!
It's hard to explain how exactly it all worked. Basically there were various kinds of "quests" or activities that you could complete. Each week more quests would be released, and you could do the activities described and turn them in for points. Some quests had potential for bonus points if you were one of the best submissions, or if you included a certain element in your submission, or…well, or anything. You really never knew what a quest was going to be until you opened it up.
There were seven types of quests:
But within those types you never knew what you were going to get. It might be running a mile, or making a meme, or writing a research paper, or solving a puzzle, or building something, or drawing something, or making a workout video, or reenacting a scene from Shakespeare, or having a dance party, or planning a heist, or playing a whole D&D campaign set in our neighborhood, or…or anything at all. They were suitably vague enough that half of the fun was in figuring out how exactly you wanted to fulfill the quest! Most of the quests assumed your team was not quarantining together (though we happened to be, since we were entering as a family), and so they were often designed to take place remotely, for example, over Zoom. Sometimes that added an extra degree of difficulty for us personally, since we did happen to be together, but sometimes we were able to play with that and work that into our quests.
On top of the quests there was a weekly livestream which was kind of a combination choose-your-own-adventure movie and chat, where we could work with other people to help navigate a "labyrinth" on campus by controlling a Minotaur named "Taur". Depending on the choices we made, we could unlock additional quests, including more involved "hub quests" that were worth 4+ points. The kids enjoyed this part quite a bit, and really looked forward to Sundays, even Alex.
Many of the quests were (Greek) Labyrinth themed, and some of them were (Bowie) Labyrinth themed, two types of Labyrinths of which I am VERY, VERY familiar.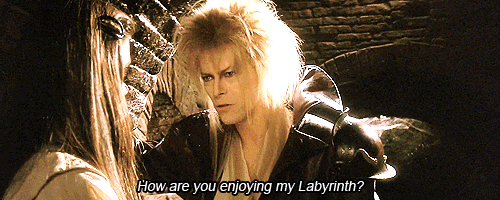 There was also a theme of what the world might look like in 2050, but they generally insisted on utopias; no distopias allowed!
In short, all of this was ABSOLUTELY PERFECT IN EVERY WAY. Not only did it keep us occupied for 4 weeks with a never ending stream of creative activities, but it was also just a force of positivity. Research something new! Imagine a better future! Learn how to paint! Be a better you!
Not for nothing, I TAUGHT MYSELF HOW TO JUGGLE!
The entire experience was absolutely perfect for me. I have an absolute need to express myself creatively, and there is not a creative muscle that I did not stretch as part of this. I composed songs, I played guitar and accordion, I used photoshop, I wrote poetry, I learned how to program in Twine. I loved every second of it.
However, that is not to say the kids did not enjoy it as least as much! Certainly there is some part of me that hopes they grow up to be just like me, but I  absolutely loved to see them participating in just this explosion of creativity. Ollie was a wiz with the art and creating games, and Evelyn seriously has a knack for creating songs and poems. I mean seriously, she can create an absolutely stunning song in less than ten minutes! Even Alex got in on the game, and participated way more than I expected him to! (There may have been the occasional bribe with gummy bears…)
Evelyn in particular was truly the Taskmaster of the whole thing. If one even DARED to spend their free time doing something unrelated to a quest, oooh you better believe she was on them. She was really the one driving us forward (see the song "Evelyn the Taskmaster" in our musical, below!). And she had some tough editors, too! I can't tell you the number of quests Sara and I sent back to her, saying, "it's not good enough, you didn't understand what they were asking, it needs to be longer!" The Oracles have high standards!
But it was so fun to just come together as a family and figure out how we were going to work together, figure out what it was going to take to pull off a quest, and then to execute on it.
On top of everything else that we've done, we also wrote and composed a 5 song musical! WE WROTE AND PERFORMED AN ENTIRE MUSICAL. This is something that I think we're all pretty proud of, especially considering how quickly we had to put it together. Everybody contributed (even Alex!), and I think our family's love of musicals really shows through.
You can listen below:
I kept telling the kids, "This is a fun thing we are doing, but we can't win. We're just in it for the fun. This is designed for college students; we're just in it to have fun." So much so, that it became a running joke. "We can't win guys, seriously. We can't win. Just enjoy doing the quests."
So…imagine my surprise when we won the whole thing!
73 teams, ranging from 4 to 24 members, and the five of us beat them all!!! I still can't believe it, to be honest. Not to say we didn't try hard, and not to say we didn't do some phenomenal work, but…us! Our little family! Beating teams twice our size and twice our combined ages!
A lot of the best stuff we cross-posted on our regular social media accounts, but you can see additional stuff at our Instagram account for The Oracles. Additionally, there are just a few quests that are just too good not to share here!
Of course, who could forget the Robot Dance?
Or the Pandemic Pentathlon?
Honestly I am struggling to even decide which quests to show on here. There are soooo many good ones! How can I pick and choose? Here is a SMALL sampling of some of my favorites:
This slideshow requires JavaScript.
Oh my goodness, I could go on and on. Where do you draw the line? With our Tik Tok dance? (song and choreography by Evelyn, of course)
My argument with Ryan Gosling?
With the lullabye Evelyn wrote to an imaginary Minotaur?
My "spooky coronaviris" story?
Any way you look at it, it was a blast! Not only did we have a great time (and we won!!), but we made so many memories. Years from now, when we look back at this weird Corona-spring, A Labyrinth will be all tied up with our memories of this time. It really did make an unbearable time bearable, and we are so, so happy to have been a part of it!