Oliver lost a tooth the other day, and naturally put it under his pillow for the tooth fairy. On the way up to bed, the Tooth Fairy snuck in to "retrieve the package". It was naturally pretty dark, so she was confused when she started pulling out sticky lumps from under his pillow. Dried cranberries? And peanut butter pretzels?
"He is sneaking food into his bed!" Sara told me afterwards. "The other day I found a plate of tortilla chips in his closet!"
Now, as background, I should tell you that Ollie is pretty much always hungry and always has been. He has been known to eat a half of bag of frozen peas after dinner, just to sort of top himself off. (Yes, he eats them frozen! No time to wait for that microwave!) Sneaking around at night to get a little snack is not in any way out of the question for him, and if you're going to do that anyway, socking it away for later is just good common sense.
Still, we can't have dried cranberries and peanut butter pretzels hanging out in his bed, so the Tooth Fairy left him a little note: "Eating food in bed is bad for your teeth! Clean it up and I will come back. Yours Truly, Tooth Fairy".
"He's not going to admit it," said Sara. "I bet he won't tell us about the note."
Sure enough, the next day I said, "So, did the Tooth Fairy come last night?" "No," he replied. "Really? She just didn't come?" "I guess not," he said. Sara and I shared a knowing look.
A little while later I was talking to Evelyn.
"Remember how I made that book about tooth brushing in 2nd grade?" she said. "I had a section in there about how to get more money from the Tooth Fairy. Ollie said he's going to try one of the ways." "Oh yeah?" I said. "What's one of the ways?" "Oh, like leaving a snack for the Tooth Fairy…"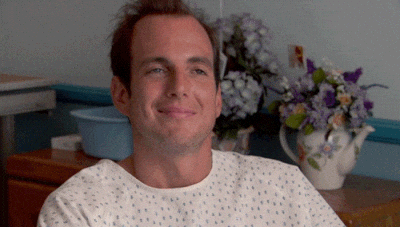 It was one of those Sixth Sense moments where you look back and realize everything you thought you knew was wrong. That poor boy hadn't been sneaking food into his bed, he had been trying to leave a snack for the Tooth Fairy (for admittedly less-than-altruistic motives, but it was sweet nonetheless). And in light of his intentions, the note the Tooth Fairy had left was…kind of jerky.
The Tooth Fairy naturally felt terrible about all of this, so the next night she tried to rectify the situation:
Ollie didn't mention that note either, but he did say the Tooth Fairy had visited him in the night.
As for the carrots, I presume he's saving them under his pillow for a little midnight snack…