Scene that happened at work today:
::me, explaining some work stuff::
Coworker: "…and then you've got trouble in River City."
My face: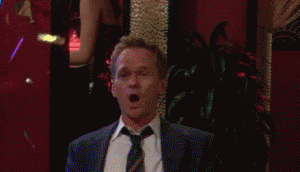 Me: "Did you…did you just make a Music Man reference?"
Him: "Oh, I don't even know where the phrase –"
Me: "Weeeeeeell you got trouble my friend. Right here, I say –"
Him: "Oh, you're singing it. Well –"
Me: "…trouble right here in River City. Well sure I'm a billiard player, certainly –"
Him: "It keeps going. Okay."
Me: "…mighty proud to say, I'm always mighty proud to say it. I consider –"
Him: "You're not stopping."
Me: "…that the hours I spend with a cue in my hand to be GOLDEN –"
Him: "SOMEBODY HELP ME I CAN'T PUT THIS TOOTHPASTE BACK IN THE TUBE!!"
I know some of you think of me as the Hamilton guy, but I absolutely never thought of myself as a theater nerd. I never *did* theater, so I thought that automatically disqualified me. And sure, I have a soundtrack or ten (or 20), but who doesn't? Musicals are just pop culture, I thought, and I have a talent for picking up song lyrics.
I mean, it really probably wasn't until about a year ago, when I was at a wrap party for one of Evelyn's plays, and I got involved in a conversation with some of the adult actors. They were discussing topics like "best/worst Andrew Lloyd Webber show" and "best musical (not named Hamilton) in the past 10 years" and I was all
I had opinions man.
So that got me thinking. Have I been musical theater nerd this whole time?
I mean, okay, so I have an abiding love for Jesus Christ Superstar, but that's really my mom's fault, and yes, okay, if you really press me I can make a top 10 favorite musicals, but it's not like I have it written down somewhere, and sure, I know all the words to all the songs forward and back to maybe 15 musicals, tops, but some of those are because of the kids, and yes fine, I've seen quite a few shows on Broadway, but we used to live in Philly, and we didn't plan our Honeymoon specifically around Broadway, it was just a happy accident, and I know that perhaps it's a little abnormal that one of my favorite movies of all time is Baz Luhrmann's Moulin Rouge, but when you think about it, for it's time…
But that doesn't make me a musical theater nerd, does it?