I know people have been waiting to hear what I thought of Hamilton, but it is difficult to get time to write on the best of days.
I know that people think I am obsessed with Hamilton, but bumping up against that fandom as I do, I can assure that I am on the low end of things. Still, I cannot deny that I know all of the words to every song, gobble up Hamilton-related trivia, and got 10 out of 10 on a quiz where you have to identify the song and character by only hearing a single "yo".
I fought for tickets the day they went on sale, and ended up with matinee tickets on a random Wednesday. Sara and I planed a nice lunch at Topolobampo before going to the show. Topolobampo was actually AMAZING, but I know that's not what you're here to hear about.
My day started like:
Followed by a long chorus of "La-la-la-Topolobampo!" in the shower.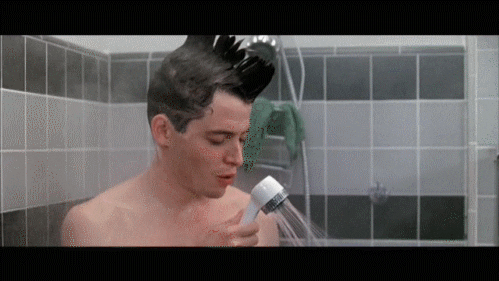 We took the train downtown, ate an amazing 3 course lunch, and then finally it was time:
The cast was overall very good. Miguel Cervantes was fantastic as Hamilton. José Ramos knocked it out of the park as Laurens, and all of the women were great (including Aubin Wise, who was stepping in as Eliza). I thought Chris De'Sean Lee did a good job too, as Lafayette/Jefferson, but I have to admit the two people I really wished I could see were obviously Daveed Diggs and Leslie Odom Jr.
Our tickets weren't the best (if that's the price I have to pay to see it, then so be it). We were at the back of the dress circle, with the mezzanine over our heads. We could see the stage just fine, but whenever anyone was up on the second level, we could only see them from the ankle down. Still, that wasn't *too* bad…the giant sitting in front of Sara and the lady with big hair in front of me were more of a problem. We actually had the 30 most amazing seconds of our life when they realized they were in the wrong seats and tried to switch with the two most petite people in the world, but then they all agreed to stay where they were and our hopes were dashed.
Seriously universe? Why?
There is clearly an entire level of nuance that you get seeing everything rather than just listening. For example, Hamilton hiding his letters from Angelica from his wife Eliza gives the whole thing a more illicit tone, or all the people delivering Hamilton's copious letters during "Your Obedient Servant", or just seeing Burr and Jefferson's faces (and/or celebratory dancing) when they realize Hamilton is endorsing Jefferson. So many little nuances, like Madison wiping away a tear after Philip dies. I don't know if I would have caught everything if I wasn't so in tune with what was going to happen.
In fact, the show is also a lot funnier when you see it in person! It's amazing how much humor an actor can pack into a sarcastic raise of an eyebrow (we saw Jin Ha as King George, and he was hilarious!) Thomas Jefferson is MUCH more insufferable when you see him dabbing, or generally enjoying someone's downfall.
The entire stage is like two levels of turntable, and there were some really awesome visuals, like everything swirling around a stationary Hamilton singing "Hurricane". I love how the set changes are choreographed into the dancing. One of my favorite visuals was when time stops after Burr fires his gun and one of the white-clad ensemble members used a fist to represent the frozen bullet.
I will admit that I was a little surprised at how old, and how white the audience was. I kind of figured it would mostly be people like me, who loved Hamilton, had fought for a ticket, and would just go whenever they had a chance. Instead it was the usual theater crowd; people who could afford to pay $ and take a day off of work. As a result I was pretty surprised at how much of the audience seemed to not really be familiar with the soundtrack or the story. In some ways it was fun to see them discover it, but I will admit I felt a little condescending towards the lady next to me who audibly gasped when Philip died.
It's funny, though: if I had only experienced Hamilton by seeing it, I would probably have a whole different set of favorite songs. The soundtrack does not adequately capture the emotion of the actors during "Yorktown / The World Turned Upside Down", nor does it capture the sheer whimsy and delight of "The Reynolds Pamphlet".
I know, I know, you want to know if I cried. Oh man did I cry. I have a secret to confess: I pretty much always cry even when I'm just listening, as long as I'm paying sufficient attention. But I would like to say for the record that I DID ALSO HAVE SOMETHING IN MY EYE during that song, no matter what Sara thinks. I mean, it probably got there from all the tears I was wiping away, but still.
I would love to see it again, but it would be hard to justify the money. I do recommend that everybody see it sooner or later (eventually tickets will be cheaper, right?) And if you do, I fully expect you to take me with you!
Until then, we always have the performance from the Tonys: