At Evelyn's school there is a yearly talent showcase. This isn't one of those "everybody gets a participation trophy" kind of things; this talent showcase is no joke, man. There are more kids than slots, so you've got to try out, and it is cut throat.
So naturally, Evelyn needs to be on that stage like a man needs to breathe.
She knew she wouldn't cut it with piano, after all this show is already chock full of kids playing Tchaikovsky on the violin from memory, so she was forced to come up with a different plan. Evelyn being Evelyn, she started calculating: what was most likely to get her a spot on the stage? Music? Covered. Dancing? Yawners.
Evelyn's answer? Magic.
Now, long time readers of the blog know that I tend to…collect hobbies. But what you might not realize is that, one of the very first hobbies I ever really got into, was magic. Don't get me wrong, I was never tremendously *good* at it, but I did attack it with my usual penchant for intense research: buying various tricks, reading magic histories, practicing sleight of hand in front of a mirror. That sort of thing.
Needless to say, I was pretty thrilled with her choice!
Despite the fact that she hasn't embraced magic the way I had all those years ago, I'd like to think I sent her down this road to begin with. I was so happy to practice with her and give her some tips. And, as with everything else Evelyn does, she took to it like a fish to water, practicing repeatedly until she had it down just perfect.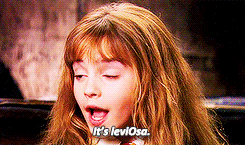 The main thing I tried to stress to her was that she needed to get good at "patter".
Me: "Have you ever seen the other kids do magic tricks? What do they do when they're doing the trick."
Evelyn: "They just stand there, quietly."
Nuh uh, not for my girl. I told her she had to tell a story. I told her she was performing, and was there to entertain. I told her any fool could do a trick, but the difference between a good magician and a bad magician was stage presence.
Well, you can judge for yourself how she did: